In the past, one had little choice over how to format a manuscript, but today you can construct your own.
You have complete control over how your final manuscript looks. As a result, understanding how to format a manuscript is critical. With immense power comes great responsibility.
Include- a 12-point Times New Roman (or equivalent) font, one-inch margins, double-spaced lines and 0.5″ paragraph indents in a manuscript format. Title pages, page numbers, and a header are all required in addition to proper document structure.
If you are unaware of how to format a manuscript the right way, you can end up with a poorly written, cluttered manuscript that an editor would not consider unless you rearrange it.
An unprofessional-looking book will not only distract readers but can also damage your brand and represent you as an amateur, impacting both future and existing book sales.
Unable to figure out how to format a manuscript? check how One Quint can help you out.
How to format a manuscript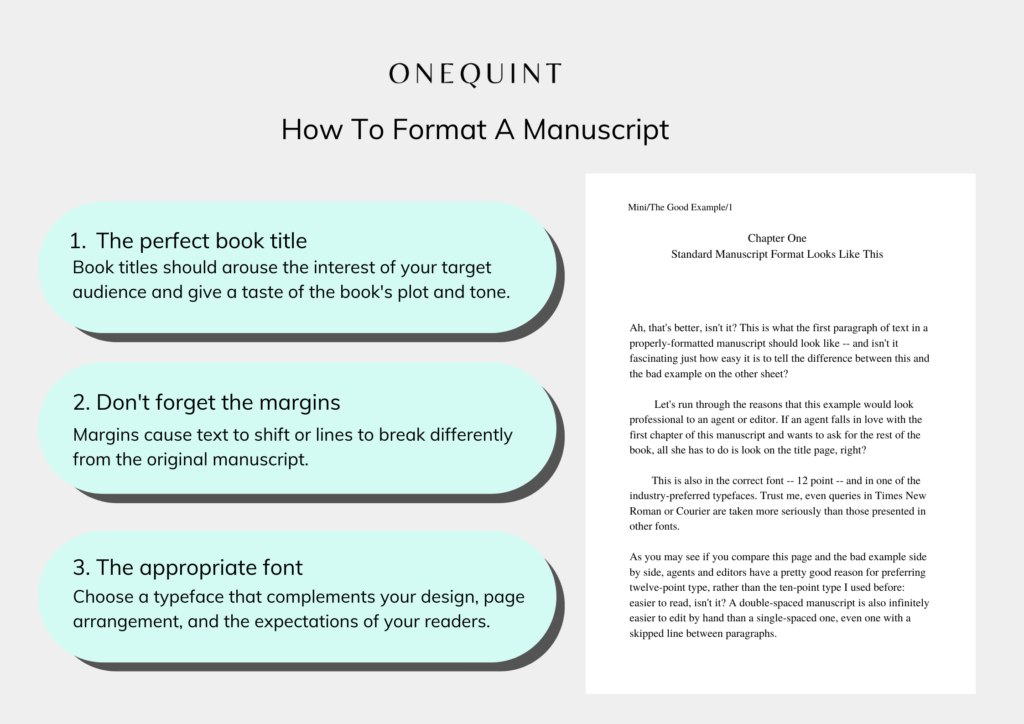 1. How to choose the perfect book title
Book titles make first impressions on readers. They should arouse the interest of your target audience and give a taste of the book's plot and tone. A good author often knows how to choose the perfect book title since titles stimulate attention and intrigue without divulging too much story information.
There are some characteristics that all great titles have. It can be insightful to write down a list of titles of some of your favourite books and think about what makes them work as titles.
The most memorable titles tend to be on the shorter end of the spectrum. It is easier to remember a short title than a more lengthy one, and it can frequently be more evocative and compelling.
It's not uncommon for the best-selling titles to be vivid and rich in wordplay and imagery. The title of a novel serves as a mini-portfolio of your writing skills. As a result, mastering the art to choose the perfect title is critical if you want to impress readers with your writing abilities.
A one-of-a-kind experience. The best book titles are memorable and one-of-a-kind. Perfect is easily recognizable and enduring.
Here is a list of 34 YA Book Titles That Are Mind-Blowingly Creative for your inspiration.
2. Don't forget the margins
All four sides should have a one-inch margin. Both Google Docs and Word should have this as the default setting. To conceal the word count of their text, some authors fiddle around with the margin settings. Don't try this at home; professionals will see right through it.
The typical format is for the document's border to have one inch margins. This indicates that the right margin is one inch wide, the left margin is one inch wide, and so on. As a result, you'll be able to observe how the new margins influence your documents' text and graphics and make the required modifications.
If you're using Microsoft Word on Windows rather than iOS, some of these procedures may look different than in this article. 'Format' or 'File' on iOS are replaced by 'Layout' on Windows.
3. The appropriate font is essential
Your book's typography is critical. But the typeface you chose isn't the most significant factor. While picking a typeface for your manuscript, you need to be sure that it compliments your design and page arrangement while also satisfying the expectations of your readers.
Here's the thing: no one will notice if you choose your novel's fonts wisely. However, if you make a terrible choice in fonts, it will be noted. The font you choose for your book will directly impact your readers' enjoyment of it.
When designing a book's inside, the typeface is just one of many variables to keep in mind. Fonts impact a variety of design features, including line length, height, page size, margins, and letter spacing. For the same reasons, the typeface you choose for the cover of your book is crucial.
Want further insights, check out Choosing a font for writing by David Hewson