How to publish a book on Amazon? It is not surprising that most authors wonder this, since Amazon is the world's largest retailer of books. In today's world, everything is quick and online. From buying books to selling properties, everything is at your fingertips. However, publishing a book on one of the most popular e-book platforms remains a challenge for newbie Authors.
Step-by-Step guide to publish an eBook on Amazon Kindle
Did you know that to publish online does not require you to be an established veteran? An aspiring author can publish their work on it for free and get discovered. If you publish an eBook on Amazon, it will be available on Amazon.com, Amazon.co.uk, Amazon.in, and several other Amazon regional websites. Additionally, you can advertise your eBook on Amazon Kindle with a small investment and reach your target audience quickly.
You are now in absolute control of your book – and its revenues – to publish a book using the Amazon KDP (Kindle Direct Publishing) platform.
Create Amazon KDP Account
The first step to publish an eBook online is to create a free Amazon account. The same Amazon shopping account can be used to log in on Amazon KDP if you already have one. If not, simply create a new account.
Click here to get started!
Then you will need to complete your KDP account information, with Author/Publisher information, Payment Information (to receive your royalties and Tax Information.)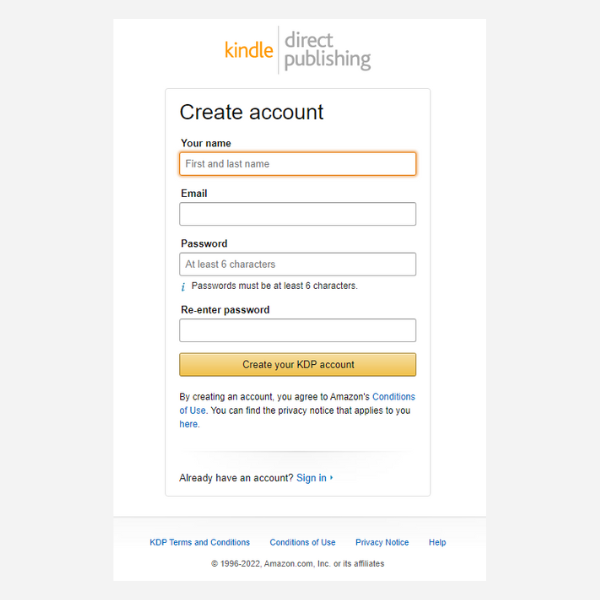 Create A New Title and Add the Description of the Book on Amazon
On your KDP Dashboard – Create a New Title with Two Options: Kindle E-book or Paperback. To start, we recommend creating Kindle ebooks, and then adding a paperback later.
After Selecting the type, you will have to add the book details. Add the title of your book and language in the first two fields of the first tab. Further You can add:
If it is part of any series
The recommended age range of your readers
Add any additional contributors who contributed to your book.
But the most important thing you will need to add is your description.
The Book descriptions on Amazon are pretty similar to what you would find on a paperback. So, take your time to write a fascinating one.
Select Your Keywords and Categories on Amazon
Choosing your categories and keywords can often feel overwhelming. In addition, with the correct research methods and a little bit of time, these nine or so words can be a powerful way to boost your chances of success.
To find the keywords and categories that feel right for your book, you should click through the Amazon Kindle Store and dig up data on successful books similar to yours.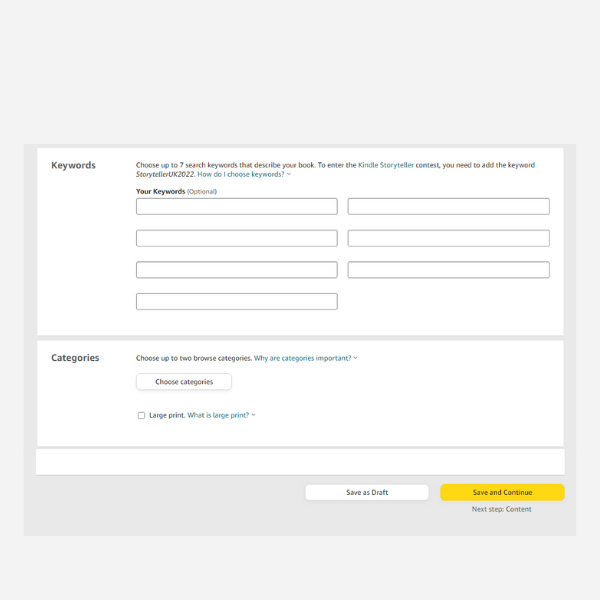 Upload Your Book
Your next step is to upload your book in MS-Word or PDF format to your KDP Book Account.
To get started, click the Upload Ebook Manuscript Button. Click OK after selecting the final version of your eBook file.
There are variety of file formats that Amazon will accept, but pdf files are preferred. It will be worth your while to hire a professional formatter, but if you are on a budget, you can use a free tool to export a beautifully formatted ebook into PDF.
Once you have selected your manuscript, you will see a message pop-up saying that it is processing your book. Amazon will take a few minutes to upload your book and verify it.
Soon, if you have formatted your book to your satisfaction, you will see a message stating that the manuscript is uploaded successfully. Still, a mile to go!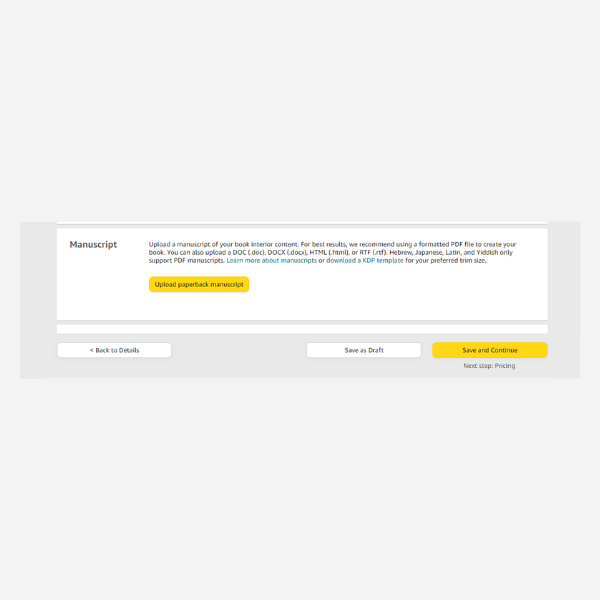 Attach your cover in JPEG or TIFF format
Your cover is appropriately 1000 X 625 pixels. To add it to Amazon, select the option to use a pre-existing cover, and click the Upload Your Cover File Button. Make sure to upload a high quality version of the cover file.
Again, this process can take a minute.
You can preview your eBook after uploading your eBook and cover using the eBook Preview tool. Please give it a minute to ensure that everything is correct. If there are any errors, please check your files and upload them again.
You are now on the final tab.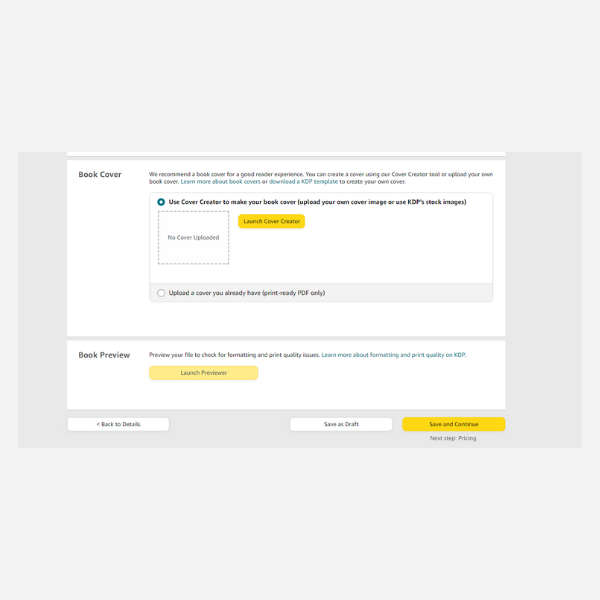 Set a price
When you set your price, Amazon calculates your estimated royalties. Based on the file size of your book, it deducts a small delivery rate and then shows you how much you will earn per sale.
Amazon offers two royalty plans 35% and 70%. Higher the royalty percentage, higher your earnings. But there's a catch, Amazon offers the 70% royalty plan only if you decide to enrol your eBook in Amazon KDP Select program. The Amazon KDP Select or Kindle Unlimited program gives customers access to unlimited books (similar to Netflix subscriptions) and pays author royalties based on pages read (more information here). If they still purchase just the eBook and not the monthly subscription, you will receive 70% royalties (which is rare).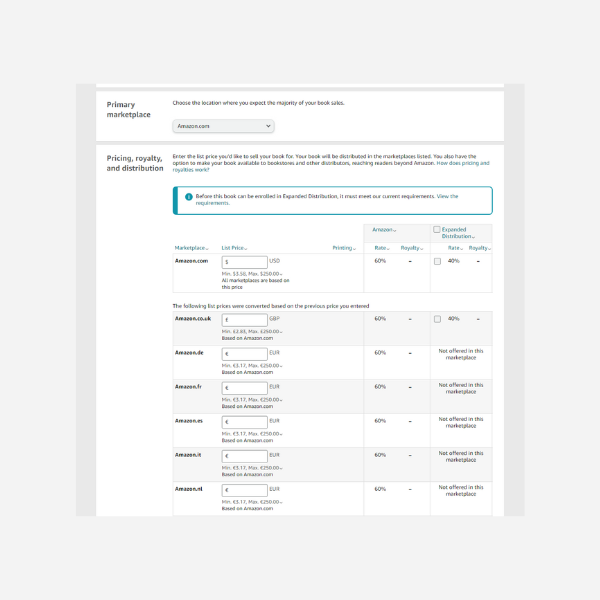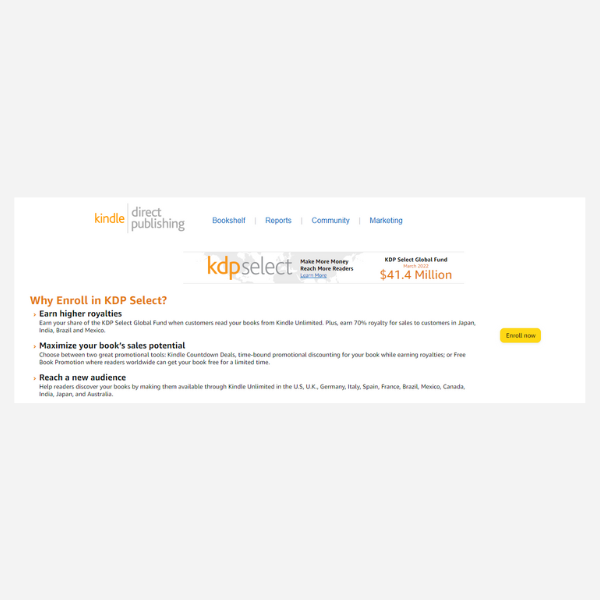 Hit that Publish Button
It is your big moment! Look over the previous tabs before you decide to publish a book online, ensure everything is as you like. Although you can fix an error after publishing, it's better to ensure the information is correct before clicking the button.
Publish a book online and offline in a quick and easy way
Sign up on One Quint and skip these tedious steps and begin your hassle free journey with us! Not just publish a book on Amazon but also Flipkart, Ingram, Google Play Books, iBooks and more.